Collaboration with NicoNico Channel and legendary anime studio opens May 30th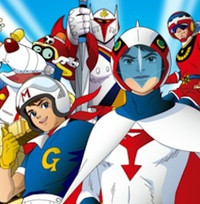 Did you know that anime studio Tatsunoko (Casshan/Casshern, Speed Racer) has been around for fifty years? They're celebrating this momentous occasion with NicoNico by opening a combination "headquarters store" and theater in Harajuku: the TatsuNico HQ and Tatsunoko Theater!
The Tatsunoko Theater will be showing off classics like Tekkaman, Science Ninja Team Gatchaman, and Mach 5 a Go Go (released Stateside as Speed Racer), as well as newer titles like Nurse Witch Komugi and Soul Taker.
In the TatsuNico HQ, you can get limited-edition goods like t-shirts with character and series art, special coasters, and clear files--along with several anime-themed food items.
While you can get your breakfast groove on with the "Oshioki Pancake" (Pancake Punishment, from Yatterman) above, I'll probably be digging into the Gatchaman curry (below).
Even at conventions, it's rare to see a single store (or booth) devoted to a single animation studio's work, but it's always really fun when you do find one. What do you think? Would you celebrate the classics at the TatsuNico HQ?
via AnimeAnime