Those of us with massive gorilla hands will still have to settle for the standard size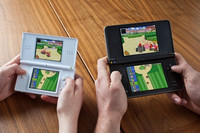 Sad news for everybody who was hoping for a 3DS XL (or whatever Nintendo would have called it)--it's not happening.
Following the Nikkei report from yesterday, Nintendo has issued a statement denying the development of a larger-sized 3DS, saying the Nikkei report is full of mistakes, and is nothing more than conjecture. More "conjecture" from the report included book and karaoke downloads for the Wii U as well as a 30,000 yen price point for the system, and car navigation. Somehow.
Yeah, because I really want to get arrested because it looks like I'm playing my 3DS while driving, when really I'm just using the thing for directions.
I'm a little disappointed about not getting a larger-sized 3DS--despite cracks from friends about my "old people DS," I have big hands and it's nice to not have a deformed claw after long stretches of handheld gaming. What about you? Will you still be holding out hope for an upgraded 3DS? I mean, I'll be honest--you don't really need the Circle Pad Pro, it's just a nice add-on, but would bigger equal better for the 3DS?
via Andriasang