Nintendo's mascot (and his brother) get triple the spotlight on the 3DS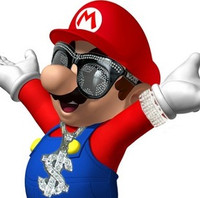 One major problem I have when playing Mario games is that I try to collect every coin. Like, every single coin ever. It's almost like I need to hear the pleasant ring of collecting coins, and I feel revitalized and whole when I get a 1-up.
Right, so that was going to kind of a dark place, but I don't think this trailer for New Super Mario Bros. 2 is doing me any favors. The 3DS platformer seems to be giving Mario no shortage of money:
I wonder what the Mushroom Kingdom's economy is like when you can just make giant solid gold coins appear out of thin air. For all I know, it's like that Adventure Time episode where the massive in-game coins are just pennies in the real world.
Nintendo also gave us a look at two other highly-anticipated 3DS titles, Luigi's Mansion 2 and Paper Mario Sticker Star. No trailers yet, but these screenshots give me a lot of hope:
Luigi's Mansion 2
Paper Mario Sticker Star
Part of me hopes the stickers in the new Paper Mario function like a card-battle game along the lines of Metal Gear Ac!d or SNK vs. Capcom: Cardfighters Clash. Luigi's Mansion 2 still looks as solid and fun as the first, so no worries there.
What about you? I'm know I'm most excited for the new Paper Mario--are you looking forward to blinging it up in New Super Mario Bros. 2, or are the other games more your style?
via Andriasang