Team Ninja gives an early look at the special edition exclusive DLC and Bass Armstrong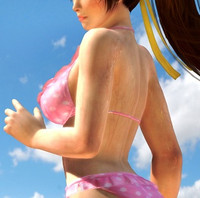 Just like Ninja Gaiden 3's Collector's Edition, Team Ninja is going all-out with the special edition release of Dead or Alive 5. Priced at ¥11,340 (about $140), the Collector's Edition includes the game's official soundtrack, an artbook, eight character postcards, ten metal character plates, and a download code for twelve Premium Sexy costumes.
So far, Team Ninja has only revealed one of the Premium Sexy costumes (below), but they've promised to gradually reveal more. While the Collector's Edition comes with the code for twelve, the standard edition of the game will come with Kasumi and Ayane's costumes.
Now, before anybody recalls Yosuke Hayashi talking about making Dead or Alive 5's female characters "more respectable," this is tame compared to the outfits in Dead or Alive Xtreme. These costumes will be available as paid DLC after the game's release, as well.
We also got quite a few new screenshots from Dead or Alive 5, featuring newly-announced fighters Kokoro, Tina, and Virtua Fighter's Sarah Bryant, as well as Tina's terrifying dad Bass Armstrong and some of the extra costumes:
Lookin' good! Personally, I think I'm gonna use Hitomi's clown costume all day, every day, because fighting games could use a little more comedy... or horror as the case may be.
Do you think the special edition of Dead or Alive 5 will make it to North America? What other special costumes do you want to see in the game?