Atsuko Ishizuka directs fish out of water school comedy at J.C.Staff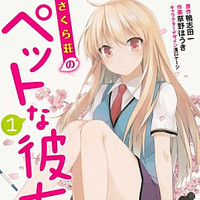 Details are firming up on the recently announced anime adaptation of Hajime Kamoshida's school fish out of water comedy light novel series Sakurasou no Pet na Kanojo. Atsuko Ishizuka, notable for being one of the select few women directing anime and for her work on the anime adaptation of American drama Supernatural, will helm the project, now slated to hit Japanese TV this fall. Ishizuka was also a storyboard artist on Chihayafuru, and handled the Aoi Bungaku adaptation of Ryūnosuke Akutagawa's 1918 short story "Hell Screen."
From Baka Update's description of the series:
After being kicked out of the main dorms for bringing in a stray cat, Kanda Sorata is forced to live in the smaller Sakura Halls where problem students are sent to live. Although he doesn't mind his roommates, Sorata can't wait to move out of Sakura Halls. But when Shiina Mashiro moves into the dorm, everything changes. Mashiro is an artistic genius who, at a young age, won many awards for her skills, but due to her childhood being so focused on art, she has no common sense and social skills. Forced to take the role of taking care of Mashiro, Sorata learns about himself and begins on a path of self improvement.
J.C.Staff (Revolutionary Girl Utena, Bakuman, You and Me) will be handling the production, with Familiar of Zero character designer/animation director Masahiro Fujii and prolific writer Mari Okada (Hanasaku Iroha, Wandering Son, GoSick, Fractale, Anohi Mita Hana no Namae wo Bokutachi wa Mada Shiranai) onboard.
Cast includes:
Yoshitsugu Matsuoka (Heaven's Memo Pad's Narumi Fujishima) as Sorata Kanda
Ai Kayano (AnoHana's Menma) as Mashiro Shiina
Mariko Nakatsu as Nanami Aoyama
Natsumi Takamori (Another's Mei Misaki) as Misaki Kamiigusa
Takahiro Sakurai (Code Geass' Suzaku Kururugi) as Jin Mitaka
Yui Horie (Nisemonogatari's Tsubasa Hanekawa )as Ryūnosuke Akasaka
Megumi Toyoguchi as (Black Lagoon's Revy) Chihiro Sengoku
--------
Scott Green is editor and reporter for anime and manga at geek entertainment site Ain't It Cool News. Follow him on Twitter at @aicnanime.