DC superteam movie gets a new writer and a new lease on life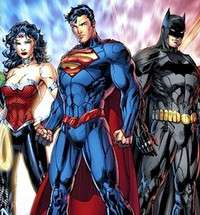 The Avengers was good. Like, really really good--not only did it shatter box-office records, but it found the perfect middle ground to please both casual moviegoers and die-hard comic fans like myself. It looks like Warner Bros. wants to try its hand at the superhero team-up with a big-budget Justice League film, penned by Castle and Gangster Squad writer Will Beall.
Warner was quick to state that they weren't going ahead with a Justice League movie out of reaction to The Avengers' overwhelming box-office success, but had been quietly putting the pieces together to make this happen in the years leading up to The Avengers' release.
With Christian Bale stepping down from the role of Batman, it's been rumored that DC will be moving to the same "shared universe" style of storytelling that the Marvel movies have. Government agent Amanda Waller had a small role in Green Lantern, so maybe that was a step towards the "shared universe" plan. What heroes would you want to see in a Justice League movie, and who would play them?
via ScreenRant