The "P4" anime theatrical edit is now playing in select Japanese theaters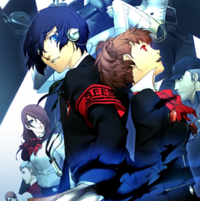 According to those who have seen PERSONA4 the Animation -the Factor of Hope-, a re-edited version of Persona 4: The Animation which had a limited theatrical release in Japan today, there is a teaser for a Persona 3 movie past the end credits.
@kuroma831's tweet was most informative of the one's we've seen (and above), beginning, "After the [P4] movie's credits, the calendar goes back in time two years to the beginning of P3, Kitaro appears, and there's an announcement of a P3 movie."
"Kitaro" is a nickname Japanese fans gave the protagonist of P3 (originally voiced by Akira Ishida).
[updated] The 2008 anime series Persona: Trinity Soul was a spin-off of P3, but the impression people seem to have gotten from the teaser is that this new movie will actually cover the game's story, although they aren't sure how it will fit into a movie's runtime. Fans are also naturally also concerned about the cast. We'll be on the look-out for further details...
via Jam Guru and sgcafe (Thanks theskyflame for tipping)