Classics rank above new hotness... and secretaries in the the financial industry love "K-on!"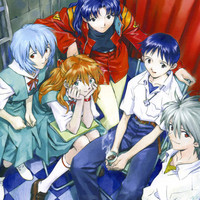 Japanese site MyNavi ran a semi-scientific poll of readers, asking which anime/manga school uniform they'd prefer to wear. Interestingly, there was definitely a proclivity toward the classics. And, given that many of the polled probably wore uniforms at some point themselves, aesthetics were tempered with some practicality. For example, a respondent mentioned that they liked Guilty Crown's uniforms, but said that it wouldn't work in reality.
1. The Melancholy of Haruhi Suzumiya (12.6%)
Both a 32-year-old software engineer and 23-year-old called out the blazers as an attractive bit of wardrobe, while a 47-year-old financial securities professional said that the uniforms looked comfortable. A 28-year-old precision equipment pro said that the colors for the male and female uniforms complemented each other well.
2. Yu Yu Hakusho (11.1%)
Most of those polled who picked YYH simply said that its uniforms were cool or tough looking.
3. Neon Genesis Evangelion (10.6%)
Most of Eva's fans said that the uniforms were a good take on normal, conventional wear.
4. H2 (6.3%)
5. Slam Dunk (5.7%)
Both the basketball and school clothes were the uniforms that a generation grew up wanting to wear.
5. Touch (5.7%)
It seemed to be mostly IT people picking Touch and most of them saying that it made them nostalgic for the Showa years.
5. Detective Conan (5.7%)
Like Haruhi, fans liked the blazer and thought that it would be easy to pull off.
The top 5 among female readers:
1. Sailor Moon (20.3%)
Respondents like a 32-year-old IT worker remember thinking the uniforms were cute or, like a 25-year-old transportation worker, thought they exemplified what older girls wore. Rei's uniforms and especially her ribbon also had a lot of admirers such as a 28-year-old insurance seller and 25-year-old healthcare professional.
2. The Melancholy of Haruhi Suzumiya (11.2%)
Haruhi fans really like the bright colors. One 29-year-old with a technical job in the chemicals industry added that she'd secretly like to wear one now.
3. Boys Over Flowers (11.1%)
The skirt had some fans, but most favorably associated the Boys Over Flowers uniforms with affluence.
4. K-on!! (9.1%)
A 37-year-old financial industry secretary called out the moe associations, while a 24-year-old in the same field said they looked comfortable and a 29-year-old in the field said that there's a clean elegance.
5. Neon Genesis Evangelion (8.4%)
A 24-year-old in financial sales called out the cute ribbon, but like the males, the polled females admired the realism.
------
Scott Green is editor and reporter for anime and manga at geek entertainment site Ain't It Cool News. Follow him on Twitter at @aicnanime.