Atsuko Maeda leads the hunt for the mysterious murderer--who is "N?"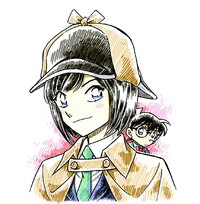 One of my favorite Detective Conan stories has to be the one where a member of TWO-MIX gets kidnapped, and Conan has to team up with the other half of the duo to save them. While Conan won't be teaming up with 64-member strong pop megagroup AKB48, the spirit of Gosho Aoyama's super-sleuth is around in a new series of commercials for Glico's "Real Ice" fruit candies.
Even without subtitles, you can get the gist of the story: the AKB48 girls are staying at a mansion, when they come across a dead body! The victim has scrawled the letter "N" on the ground, pointing to the identity of the murderer--one of 89 possible culprits! Could one of the AKB48 girls be capable of murder? Dressed in detective clothes (because they do make you smarter, as Psych has taught us), Atsuko Maeda says "leave it to me!" and begins the investigation.
These CMs are an ongoing series, so the story is sure to take plenty of twists and turns before we find out who "N" really is. My guess?
I KNEW IT ALL ALONG.
What do you think about this multi-part CM story? You want us to keep you updated on it? Personally, I'm interested in seeing where this goes, but I also want some of that Real Ice candy.
via Yaraon