1st Haruhi kit from Cospa's Graphig series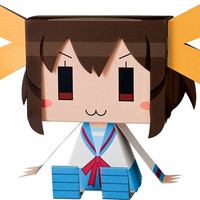 The July issue of Kadokawa Shoten's manga magazine Altima A (Ace), which is published today in Japan, is bundled with a Graphig papercraft kit of Haruhi-chan from The Melancholy of Haruhi-chan Suzumiya. Graphig is a popular papercraft series produced by COSPA, a character goods and cosplay costumes company in Japan. The series have featured Vocaloid, K-ON!, Magical girl lyrical Nanoha, NARUTO, To Heart 2, TIGER&BUNNY, Persona 4, Strike Witches, and many more. This is the first Graphig kit featuring the character from the entire Haruhi Suzumiya series.
The Melancholy of Haruhi-chan Suzumiya is an official parody four-panel comic strip by Puyo. Kadokawa's Shonen Ace has serialized it since July of 2007. The six volumes of the tankoubon have released in Japan so far. Yen Press licensed the manga series for an English release in
North America and has released five volumes.
The cover of the July issue of Altima A
The newest Graphig kits from Persona 4
*all kits are scheduled to be released in late July
Graphig 122 Yousuke Hanamura
Graphig 123 Yukiko Amagi
Grapig 124 Rie Kujikawa

Source: Natalie