France, USA, China, and Japan from July to November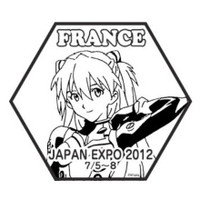 The official site for the third installment of the Rebuild of Evangelion movie series, Evangelion: 3.0 You Can (Not) Redo, announced today that they will launch a world-wide event "Evangelion World Stamp Rally 2012" in four countries from July to November this year. The cities are Paris (France), San Francisco (USA), Beijing (China), and Tokyo (Japan).
You can get stamps of Shinji Ikari, Rei Ayanami, Asuka Langley Shikinami, and Mari Illustrious Makinami at each city. The people who successfully collect all of the stamps will receive a sticker set featuring the key visuals of the events and special illustrations. You will need your passport to prove that you actually visit the four countries by yourself. The Eva-fans in the world, let's try!
The schedule:
France
Paris-Nord Villepinte Exhibition Center
"JAPAN EXPO 2012"
at Culture Japan (TOHAN) booth
7/5~7/8
USA
San Francisco Japantown
"J-POP SUMMIT FESTIVAL 2012"
at "THE EVANGELION POP UP MUSEUM" in NEW PEOPLE
8/25~8/26
China
北京蟹島集団(北京朝陽区蟹島路1号)
"ICAC International Comic and Animation Convention"
http://www.xiedao.com/html/index.asp
at Japan Pavillion's EVA original arts exhibition
11/3~11/11
Japan
Shiodome Nihon TV
"Shiohaku"
http://www.ntv.co.jp/shiodome/event/2011shiohaku/
at Evangelion Store the 3rd Shiodome branch
7/25~8/26
Asuka stamp for Japan Expo 2012 in France
Trailer
Source: Rebuild of Evangelion movie series official site
© khara