Designed by Tsukasa Nagano (Fox Konko)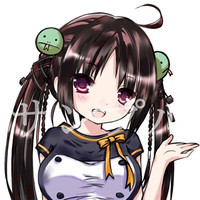 Thanko Rare Mono Shop, a computer parts shop in the Akihabara town, is now looking for a name for their new moe mascot character. You can tweet your idea with a #レアモノちゃんねる hashtag on Twitter. The winner will receive some presents from the shop. She was designed by a popular moe manga artist/illustrator Tsukasa Nagano. Nagano has been famous for her design works for another famous mascot character "Fox Konko" for an electronics manufacturing company Foxconn. What kind name does suit this girl? What's your idea?
Thanko Rare Mono Shop's new mascot character
Tsukasa Nagano's another popular character Fox Konko-chan
Fox Konko-chan's MMD video "Sayonara, Good bye"
Source: Akiba PC Hotline!
© Tsukasa Nagano