Distributor adds more titles during this weekend at Anime Expo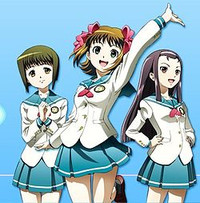 Sentai Filmworks has announced the additon of two more titles to its growing slate of acquisitions for the year in Mayo Chiki and Idolmaster: Xenoglossia this weekend at Anime Expo.
Mayo Chiki centers on Subaru Konoe, a beautiful boy who serves as a mansevant to a classmate named Kanade Suzutsuki. Another boy named Kinjirō Sakamachi accidentally discovers Subaru's secret that "he" is really a girl. The series is expected later this year in a complete series DVD release and will be sub only, with the digital release also slated for this year.
Idolmaster Xenoglossia is the 2007 anime adaptation of the [email protected] franchise produced by Sunrise which adds mecha action elements to the loose inclusion of idol training elements found in the franchise with budding idol hopefuls. Like Mayo Chiki, it will be released on sub-only DVD and distributed digitally later this year. With both of these shows now licensed despite their previous low chances, is anyone excited for either show at this point?