Anime adaptation of otome (reverse-harem) game also streaming on CR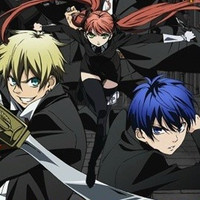 You might have seen yesterday that Crunchyroll will be streaming a simulcast of La Storia Della Arcana Famiglia, based on Comfort Soft's otome (reverse harem) game revolving around an impossibly handsome male cast (the "Arcana Famiglia") and the impossibly lucky young woman who must choose one of them to be her husband. Of course, this is the only way to carry on the family's legacy of kickass mafia sorcery! But there's more: alongside Natsuyuki Rendezvous and Campione!, Sentai Filmworks has also announced its acquisition of the series!
With animation from J.C. Staff (Shakugan no Shana), the TV series will be directed by Sekai Ichi Hatsukoi's Chiaki Kon. While you can watch La Storia Della Arcana Famiglia here on CR, Sentai will also be streaming the series through other outlets, and has planned a home video release for sometime next year.
Will you be checking this series out? Even with what little we know, would you add it to your collection?