Three romance titles from Ohzora Publishing added to digital manga portal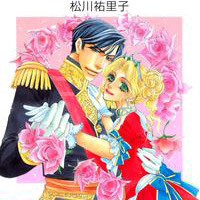 If you enjoyed last week's debut of romance titles from Ohzora Publishing at JManga, they're back for a second round in the latest Tuesday update. This week, the digital manga portal is premiering the English translations of Mayu Takayama's Love Spice, Yuriko Matsukawa's Queen's Stairs, and Yoko Hanabusa's Roman Holiday.
Love Spice
Created by MAYU TAKAYAMA
Published by Ohzora Publishing Co.
Story
Schatzi, who is working as a chef at her father's restaurant in New York, is down in the dumps after her boyfriend leaves her. Her friends urge her to go out and find new love, and she chances on Hanley Maize, a kind-hearted millionaire. Mr. Perfect proposes to her, but Schatzi has difficulty suppressing her feelings for Tom, a mysterious and irresistible man who is a regular at the restaurant. To make matters more complicated, her father suffers a stroke and the future of the restaurant is now in jeopardy. Can Schatzi save the day?
Created by Yuriko Matsukawa
Published by Ohzora Publishing Co.
Story
A young lady of the British nobility, Elizabeth, started to work in Santa Vannes, hiding her identity. There was a beautiful old castle with stairs that only "the queen" could go up. In that same country, she saw Tao again – the mysterious gentleman who had helped her control an unruly horse at a riding club a few years ago. Elizabeth is offended by his rude and arrogant attitude, but for some reason, she is also attracted by the sudden intent look he gives her from time to time….
Roman Holiday
Created by YOKO HANABUSA
Published by Ohzora Publishing Co.
Story
While on her trip to pay courtesy calls to European Heads of State, Princess Ann has a breakdown in Rome from performing endless public duties every day. Thanks to her disguise, she has just one day to do whatever she pleases. Ann meets Joe, a journalist, who sees through her disguise, and starts to follow her around. But is he just in it for the scoop or something more?
------
Scott Green is editor and reporter for anime and manga at geek entertainment site Ain't It Cool News. Follow him on Twitter at @aicnanime.