Ultraman, Godzilla, and Mighty Jack honored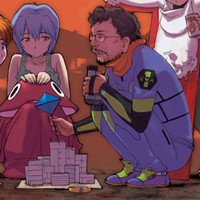 While Neon Genesis Evangelion quickly established itself as a landmark in mecha anime, the series drew considerable influence from creator Hideaki Anno's passion for live action tokusatsu (Japanese for "special effects") works. From the Eva unit's power limit resembling the time constraints under which Ultraman had to fight, to the shapes of many of the angels, scenes in which Japan's armed forced tried futilely fend off those invaders, the imprint of giant rubber monsters and superheroes and is all over Evangelion.
(Sgt Frog's Mine Yoshizaki reminagines Evangelion as a tokusatsu production for gainax.co.jp)
As the curator the high profile "Hideaki Anno's Tokusatsu Museum," hosted by the Museum of Contemporary Art Tokyo July 10 to October 8, Hideaki Anno has planned an exhibit of some of great artifacts of tokusatsu movie and television making, as well as Studio Ghibli's new live-action short God Warrior Attacks Tokyo.
For the occasion, the legendary fan of the genre has taken the opportunity to share a list of his five favorite tokusatsu works - based on their cultural significance and his own emotional attachment:
1. Godzilla (1954 )
Anno remembers seeing a screening of the original Godzilla film just after graduating highschool and feels that this, the original Japanese kaiju movie, is still the great monster movie of all time.
While none of the original Godzilla costumes were well enough preserved to be used in the exhibit, it will still feature the fearful "Oxygen Destroyer."
2. Mighty Jack (1968)
A sci-fi spy show which Anno fondly recalls from his elementary school days as "extremely cool." English language fans might remember the Sandy Frank localization being spoofed in MST3K.
Only 40% of the series' famous battleship remained intact, but it was able to be restored using the same techniques with which it was originally built.
3. Ultraman (1966)
4. Ultra Seven (1967)
5. Return of Ultraman (1971)
Anno stated that in his opinion, the original Ultraman is the perfectly told giant hero story.
With the models used for Ultraman's flying scenes, his famous colored timer and more, the exhibit will display plenty of items from the Ultraman productions, which Anno feels will help distinguish this exhibit from the many Japan has seen paying tribute to the Godzilla movies.
Least anyone forget, God Warrior Attacks Tokyo isn't the first tokusatsu that Anno produced. Before God Warrior, before his 2004 live action Cutie Honey, there was young Anno's own 1983 fan movie tribute Return of Ultraman (Kaettekita Ultraman).
In 2006, it inspired its own action figure
------
Scott Green is editor and reporter for anime and manga at geek entertainment site Ain't It Cool News. Follow him on Twitter at @aicnanime.