Begins Sat/14 at 9am PDT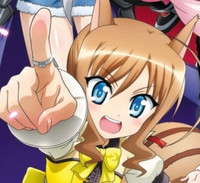 Crunchyroll continues its summer anime simulcast announcements with the addition of Dog Days (Season 2) which is set to broadcast every Saturday at 9 am PDT for premium members with free members able to view one week after initial broadcast. Additionally, the first season of Dog Days will also be available on Crunchyroll with launch times to be announced at a later date. More information can be found on www.crunchyroll.com/dogdays.
Here's the synopsis
"Following Cinque's wild adventure in the Flonyard – an alternate world where its inhabitants look like humans but with animal ears – he is summoned back once again! However, this time he is joined with childhood friend Rebecca and cousin Nanami to become Galette's Hero as the war wages on the battlefield and in desperate need for an end to the fighting…"
Both seasons of Dog Days will be available to Crunchyroll's audience in the following territories: U.S.A, Canada, United Kingdom, Ireland, South Africa, Australia, and New Zealand.