An early look at Hunter x Hunter's anticipated story arc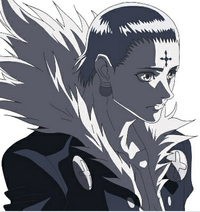 After plenty of build up in the story and plenty more teasing in the opening and ending animation, Hunter x Hunter is finally ready to get down to the anticipated Phantom Troupe arc. If you can't wait to see what's in store, the NTV anime's site offers a preview with Madhouse's new designs for the group.
Chrollo Lucilfer - played by Mamoru Miyano (Zange Natsume from Inu X Boku SS, Taichi Mashima from Chihayafuru).
Machi - Rena Maeda (roles in Hanasaku Iroha and Ano Natsu de Matteru).
Shizuku - played by Miho Arakawa (Himari Takakura in Mawaru-Penguindrum, small role in Ben-Tō).
Shalnark - Noriko Hidaka (Yō Fujino in Star Driver, Taeko Isshiki in The Knight in the Area).
Nobunaga - Naoya Uchida (Yūji Endō in Kaiji, Madara Uchiha in Naruto Shippuden).
Pakunoda - played by Romi Park (Temari from Naruto Shippuden, Nana Osaki from Nana).
Franklin - played by Hidenobu Kiuchi (Greville de Blois from Gosick, Hei from Darker Than Black).
Phinks - played by Kenn (Hibito Nanba in Space Brothers, Fumi Roppongi in Miracle Train).
Uvogin - played by Akio Ōtsuka (Black Jack in Black Jack, Rider in Fate/Zero).
Feitan - played by Kappei Yamaguchi (L in Death Note, Teddie in Persona 4: The Animation).
Kortopi
Bonolenov
SPOILER WARNING
...
...
Hisoka - played by Daisuke Namikawa (Shōta Kazehaya in Kimi ni Todoke, Waver Velvet in Fate/Zero).
the voice cast
via @HxHPodcast
-------
Scott Green is editor and reporter for anime and manga at geek entertainment site Ain't It Cool News. Follow him on Twitter at @aicnanime.