New magical girl needs your song!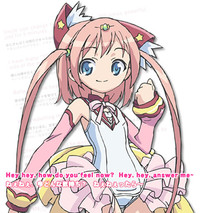 The Akiba Blog website announced today that they started accepting applications for the theme song audition for the up-coming TV anime series Maji de Otaku na English! Ribbon-chan ~Eigo de Tatakau Mahou Shojo~. The song will be sung by Sakura Tange, the voice actress of the title character Ribbon Nanairo. The official tie-in anime series with the Akiba Blog is produced by Anime International Company (AIC).
Just like Moetan almost ten years ago, the anime aims to teach English with cute girl characters. POP, the illustrator for the Moetan series, designs the characters again. You can learn many useful English expressions in your Otaku-ish life like;
"I like you as much as I like EROGE!"
"Did you think it is a magic girl? It's me!"
"Feels really good to unite 3 machines into one."
"That idea never occurred to me."
"Hey hey, how do you feel now? Hey hey, answer me~."
(from the official site)
The song will be used as the theme song for the TV show, so the length must be 89 seconds.
The deadline is July 18. This is your chance to make your ani-son debut in Japan!
Maji de Otaku na English! Ribbon-chan will premiere on Japanese television this summer.
Source: Akiba Blog
© AIC