WRYYYYYYYYYYYYYYYYYYYYYYYY-ly good news for fans of CPS3 gem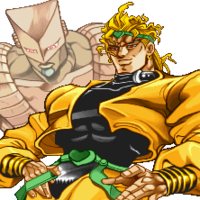 Earlier this week, we took a look at the rumored return of Capcom's stylish, innovative CPS3 fighter JoJo's Bizarre Adventure. Capcom has confirmed that they're releasing an upgraded version, titled JoJo's Bizarre Adventure HD Ver!
Capcom has stated that the game will have a "robust" collection of online features that are comparable to Super Street Fighter IV and Marvel vs. Capcom 3, both of which have excellent online components. Still no word on whether or not the PS1 version's in-depth Story Mode will be making an appearance, sadly, but the game will be coming out on Xbox Live Arcade and PSN for 1600 MS Points/$20 on August 22. It's kind of a surprise since downloadable titles are usually $15, but 1- this is a really niche title and 2- look how much a physical copy costs now:
Will you be fighting the minions of Dio Brando with JoJo's Bizarre Adventure HD Ver?
via Capcom-Unity
Thanks to NeoStrayCat for providing release date and price details!