Eclectic set of five volumes added to digital manga portal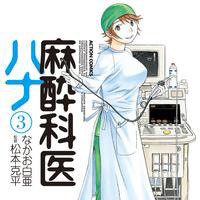 Digital manga portal JManga added an eclectic set of new volumes in this week's Tuesday update, including Makiko's supernatural josei series Urameshiya, medical drama Anesthesiologist Hana and three new Ohzora romances.
Urameshiya Vol. 2
Created by Makiko
Published by FUTABASHA PUBLISHERS LTD.
Story
One cold winter, a young woman appeared near the bridge, and tempted a man. The man accepted her offer, and was found dead the next morning. There has been an unusual number of freezing deaths this year... With unusual ghostly powers, this necromancing fairy goes on to solve the mysteries of Edo and take on challenge after challenge in the 1st issue of this popular series!!
Anesthesiologist Hana Vol. 3
Created by Nakao Hakua , Kappei Matsumoto
Published by FUTABASHA PUBLISHERS LTD.
Story
As a young anesthesiologist who has been with her hospital for about three years, Hanaoka Hanako has just about had it with her job. The hours are grueling and there are never enough hands. Her coworkers are either obnoxious jerks who call her incompetent or sexist boors who try to cop a feel. She's hardly ever sees the sky, has to eat cup ramen for most meals, and has no social life to speak of. Worst of all, her job is thankless. Everyone loves surgeons who perform lifesaving operations, paramedics who rush to the scenes of emergencies, or nurses who provide primary care - but anesthesiologists are only singled out if something goes wrong and a patient is lost. Still, someone's got to do it, and if not her, then who? So even with crappy pay, terrible work hours, and sexual harassment...anesthesiologist Hana will cheerfully knock you out!
In the Sand Dunes Where the Black Feathers Dance
Created by TAKAKO HASHIMOTO
Published by Ohzora Publishing Co.
Story
Searching for her missing brother, journalist Lynn Fisher sneaks into Jantar, a small
country surrounded by deserts. As she investigates the king's palace, she is caught by the
guards. The new king is Kasim, a man rumored to have inherited the throne by murdering
his older brother. Kasim makes a proposal to the wary Lynn. "Rather than being executed,
become my mistress!" The journalist, imprisoned in the harem with the hard-hearted king!
Where will fate take these two colliding spirits?!
How To Tame A Difficult Woman
Created by TAKAKO HASHIMOTO
Published by Ohzora Publishing Co.
Story
David, a straight-laced, glasses-wearing archaeologist (who is actually very handsome), must do whatever it takes to get his hands on a donation for the museum. A one million dollar shot in a game of golf leads to a fated encounter with the demon, Susan…!?
To The Stage Of Love With The Sheik
Created by Harumo Sanazaki
Published by Ohzora Publishing Co.
Story
Leann is performing the part of the heroine in a small off-off theatre in a corner of Broadway. One day, a man named Sheik Hardy appears. He possesses a vast amount of assets and has achieved enormous success in business after leaving his homeland. Considered unorthodox among the sheiks of his clan, he served his clan in business…But now using his financial means he is attempting to revolutionize the world of show business in New York for the sake of his dream. Hadi discovers Leann's talent and selects her to be the heroine in a play by a famous stage director…
------
Scott Green is editor and reporter for anime and manga at geek entertainment site Ain't It Cool News. Follow him on Twitter at @aicnanime.