Could "Retribution" be the beginning of the end for Alice and company?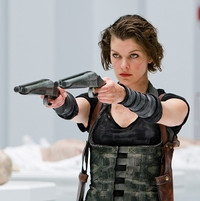 Despite my love for them, I can understand why a lot of people have harsh words for the Resident Evil movies. Personally, I already thought Resident Evil's story was pretty idiotic, so it wasn't that much of a stretch for the dumb-yet-fun survival-horror games to make the jump to dumb-yet-fun action-horror flicks.
However, with four films down and a fifth on the way, director Paul W.S. Anderson talked about bringing the series to an end at Comic-Con's Resident Evil: Retribution panel. This ending wouldn't start until the sixth film, though, and Anderson (and his wife, Milla Jovovich) still have a lot of zombies to kill and a lot of asses to kick before the series thunders to a close.
I like how Anderson just casually tosses out that there's going to be another Resident Evil movie--maybe more. Part of me wonders what conversations are like in the Anderson-Jovovich household: "Hey honey, the swimming pool full of money is starting to run a little low, it's about halfway empty. Get your fishnets, halter top and guns, let's make another Resident Evil!"
Do you think the Resident Evil series is working its way to a conclusion? Here's a worse question: do you think a reboot would come afterward, and would it follow the games or be more like the movies?
via IGN