New "full" trailer shows off English voice acting along with gameplay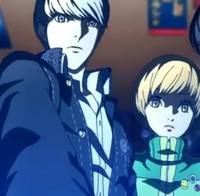 August is going to be a great month for gamers, with brawny big-budget titles like Sleeping Dogs, Darksiders II and Transformers: Fall of Cybertron fighting for playtime. Nestled among those is a little game we've been covering for some time called Persona 4 Arena, bringing the flashy, supernatural combat from the Persona RPGs to the intense, exacting world of fighting games! Check out Atlus' full trailer for the game:
I just think it's worth sharing this bit from the Atlus PR:
A curious appellation, that of the "FULL" trailer. What, pray tell, is it "FULL" of? Wonderment, akin to that of unicorn tears or the contained laughter of a thousand adorable babies? Excitement, equal to many things exploding at once or perhaps the sight of DOUBLE RAINBOWS? Publishers use such curious language to pump up our stuff, don't we?
Yet, in the case of this new FULL trailer for Persona 4 Arena, we believe it delivers on any and every kind of "fullness" expected by the viewer. It is full of awe, a mixture of beautifully drawn and animated 2D fighter sprites set upon elaborately rendered 3D backgrounds. It is full of action, with satisfying combo after combo delivering high-flying punches and kicks and jaw-dropping special effects. It is full of win, friends... The very best kind of win.
24 karat win.
Truffle win.
Nutella win.
Watch it. Share it. Enjoy it.
So as you might guess, Atlus and Arc System Works are really excited for this game, and you should be too! Fighting game fans, are you ready to put your arcade sticks through the gauntlet when Persona 4 Arena hits on August 7th for 360 and PS3? I'll be waiting on Live to knock some heads, but what about you?