Amazing-looking screens and artwork, plus a look at the game's collector's edition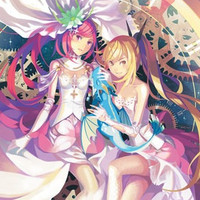 There's not much that we know about Namco Bandai, Satelight, and ImageEpoch's PS3 RPG Toki to Towa (Time and Eternity)--we know that its graphics straight-up are playable anime (the graphics are hand-drawn), and it involves main character Toki's quest for answers after she and her fiancee are attacked at their wedding. Two new characters have been revealed for the game, as well as a ton of screenshots!
Makimono is a fortune-teller who warns Toki about the raid on her marriage, and awakens Toki's alter-ego Towa.
Bikodo heads up the kingdom's Assassin's Guild, and are responsible for the attack on the wedding. He and Makimono may be working together.
Toki and her alter-ego Towa must now travel back into the past to find out why Toki's wedding to a knight was interrupted, and how to stop it from happening again.
We also got a look at Toki to Towa's Japanese-release Collector's Edition:
The Toki to Towa Collector's Edition comes in special packaging with a soundtrack CD, drama CD, a 48-page artbook, and a download code for 11 custom themes.
There's no word yet on whether or not Toki to Towa is getting a North American release, but one can dream, right? With what we've seen of the game, what do you think about it?
via Andrisang