Every Thursday at 10:35am PDT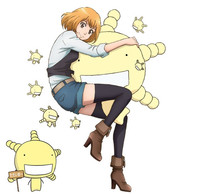 Crunchyroll has added another chess piece to their big board of summer anime as Moyashimon Returns, based on the award winning manga by Masayuki Ishikawa, is set to debut soon on the site.
Moyashimon Returns will be broadcast every Thursday at 10:35 am PDT. Free users will be able to view it one week after initial broadcast on Crunchyroll. More information can be found shortly on www.crunchyroll.com/moyashimon.
Moyashimon Returns is the second entry in the Moyashimon anime franchise, following the original 2007 series. Here's the synopsis of the new show.
"MOYASHIMON RETURNS picks up where the last season left off as our protagonist Tadayasu Sawaki, a first-year college student at an agricultural university, continues to have the unique ability to see and communicate with micro-organisms and bacteria. Still alongside good friend Kei Yuuki, whose family runs a sake brewery, he develops an even deeper understanding of bacteria world with his special ability!"
MOYASHIMON RETURNS will be available for the following territories: North America, South America, Central America, United Kingdom, Ireland, South Africa, Australia, New Zealand, Denmark, Finland, Netherlands, Norway, and Sweden.
(Updated to reflect correct time)