New volumes of "The Witch of 2-A," "Madame Joker," and 10 Harlequin romances also added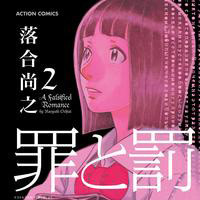 With Naoyuki Ochiai's retelling of Russian literary classic Crime and Punishment and Ha Seung Nam's manga version of prolific novelist Kenzo Kitakata's take on the classic Chinese political saga, Records of the Three Kingdoms, new volumes of remarkable adaptations headline the wide selection of new entries added to JManga in this week's Thursday update.
The Witch of 2-A Vol. 2
Created by Akira Houjoh
Published by Takeshobo Co., Ltd.
Story
Fuka Nanase, a 14-year-old in the 8th grade, falls in love for the first time. But when her heart beats, she becomes a witch!?
RECORDS OF THE THREE KINGDOMS Vol. 2
Created by Kenzo Kitakata , Ha Seung Nam
Published by Takeshobo Co., Ltd.
Story
At the end of the Han Dynasty in China the Imperial Court was collapsing to the point
of no repair. With corrupt eunuchs and selfish relatives manipulating the emperor, the
government was becoming obsolete and peasant uprisings breaking out all over the
country. When Zhang Jue founds the "Way of the Great Peace" order, he rallies enough
followers to leads the largest revolt yet: The Yellow Turban Rebellion. This is where the
curtain on history is raised. It all starts with a man named Liu Bei Xuande. When he forms a
brotherhood with Guan Yu and Zhang Fe, together they take a step toward suppressing the
rebellion and bringing unity back to China.
Crime and Punishment: A Falsified Romance Vol. 2
Created by Naoyuki Ochiai
Published by FUTABASHA PUBLISHERS LTD.
Story
Inspired by the Russian classic Crime and Punishment, retold through the eyes of a struggling Japanese writer, Ochiai Naoyuki's adaptation of Dostoevsky`s drama focuses on the issues of identity and the duality of life in a modern megapolis. The protagonist, a poor, moody student named Tachi Miroku, was recently recognized as the Best New Writer in a major literary competition, but the stress of living up to his family`s goals of him becoming a powerful man has broken him on the cusp of greatness. Despite his tremendous potential, success does not come easy. Alone and without direction, every day is a vicious battle with his past and his moral fiber. He hasn`t been to work in four months and his dreams are a total mess filled with abuse, taunting, and the strong smell of blood. And that is just the tip of the iceberg...
Madame Joker Vol. 2
Created by Tomoko Naka
Published by FUTABASHA PUBLISHERS LTD.
Story
Rich, pretty, and free-spirited Ranko Gekkouji may be a widow, but she's hardly wasting her days in mourning! Blessed with wealth, beauty, and adorable children, the envy and jealousy of others overflows - but that won't stop her from doing what she wants. For when she's not horrifying her mother-in-law by frolicking with her younger boyfriend, or having a fairly lax attitude toward parenting her teenage children, Ranko uses her all to solve cases, bringing her own brand of justice to the selfish, the vain, and even the evil killers who dare to cross her path.
Domesticating Luc
Created by SANDRA PAUL , MAYU TAKAYAMA
Published by HARLEQUIN K.K.
Story
Dog trainer Julie is in trouble. Workaholic business tycoon, Luc is planning to find another home for Puppy, a huge mastiff he has inherited from his grandmother. For that, Luc hired Julie to give an intensive training for Puppy for 6 weeks, staying at his home. No way! He has to look after his dog. As Julie works hard to develop intimate relationship between Luc and Puppy, she finds herself gradually falling love with him. She has to remember that Luc needs her only as a dog trainer...
The Greek Millionaire's Marriage
Created by SARA WOOD , SAMI FUJIMOTO
Published by HARLEQUIN K.K.
Story
When Olivia married Greek millionaire Dimitri she believed their love would last forever. However, her happiness lasted only for six months when she discovered her husband had a lover, and even a child with her. I cannot stand sharing my husband with another woman! Since then, three years have passed. Olivia now travels to Italy to see Dimitri again, but only to sign divorce papers. But when she sees Dimitri, who is as attractive as he was three years ago, she realizes she still loves him...
The Royal Marriage
Created by Fiona Hood-Stewart , NATSUKO HAMAGUCHI
Published by HARLEQUIN K.K.
Story
"Your father just asked me to marry you." These are the words of the handsome man who appeared in front of Gabriella, the heiress to a fortune. He is Prince Ricardo of the principality of Moldoravia. "I won't marry a notorious European playboy!" Luckily, he doesn't want to get married, either, but that fact shakes Gabriella. What dramatic event will bring them together in marriage...?
The Italian Playboy's Secret Son
Created by REBECCA WINTERS , TAKAKO HASHIMOTO
Published by HARLEQUIN K.K.
Story
Cesar de Falcon is the star of the F1 racing world. With an unparalleled skill behind the wheel, he captivated his fans and was the object of women's desires around the world. This was how Sarah remembered her ex-lover. But now, after a horrific accident, it appears he will not recover from his injuries and he sinks into a pit of despair. When Sarah visits Cesar in the hospital, he is less than happy to see her. He is still angry that she left him with no explanation. But Sarah has come to explain things to him, because what she has to say might give Cesar a reason to live again...
The Wedding in White
Created by DIANA PALMER , MARITO AI
Published by HARLEQUIN K.K.
Story
It is McKenzie who consoles Natalie at Age 17 when the devastating news of her boyfriend's death strikes her. Seemingly indifferent to her until then, her older neighbor makes her lose herself with a strong embrace and a hot stirring kiss! That one kiss leaves her in a shock as if her entired body has been seared with his seal. Then he says, "Don't forget. I am going to show you what comes next."
The Apartment
Created by DEBBIE MACOMBER , RYO ARISAWA
Published by HARLEQUIN K.K.
Story
When Hilary got a place on the San Francisco Symphony as a flute player, she decides to move into her own place to escape her restricted life with her over-protective mother. Although excited at her new found freedom, it doesn't last for long. The next morning, the quiche she left in the fridge for breakfast was gone, her milk had been used and an unfamiliar bag was in the living room! As she stood confused, a handsome man she had never seen before appeared in front of her and says to her angrily "what are you doing in my house?"
Prisoner of the Tower
Created by GAYLE WILSON , KARIN MIYAMOTO
Published by HARLEQUIN K.K.
Story
It's the social season, and 17 year old Emma heads to London, with her family's hope of finding a rich husband weighing heavily on her shoulders. One night, a mysterious man approaches her. A refined handsome face, curly black hair and deep blue eyes... Emma falls in love at first sight and shares with him her first kiss. 12 years later and now a widow, Emma visits the Earl of Greyston to discuss the marriage of her stepdaughter. It is the Earl's younger brother who is betrothed to her stepdaughter, but the Earl never shows himself. While staying there, Emma spots the man she kissed all those years ago in a portrait on the wall...!
Valerie
Created by DEBBIE MACOMBER , MAO KARINO
Published by HARLEQUIN K.K.
Story
"Love is just a waste of time!" claims Valerie, a successful company executive. Always cool and collected, she even acts calm at the news of her father's critical illness. However her father's physician Colby sees through Valerie's cold exterior to discover a tender loneliness. He becomes attracted to the tough acting yet frail Valerie. One day, seeing her weeping quietly, he embraces her and comforts her with a kiss. Valerie don't have to hold back her tears when she is in front of Colby. While desiring each other deeply, an invisible wall continues to divide the career-orientated Valerie, and Colby, who longs for a traditional woman. Will their love eventually break through this wall?
Sale or Return Bride
Created by SARAH MORGAN , KAZUKO FUJITA
Published by HARLEQUIN K.K.
Story
Despite being born to a wealthy Greek family, Alesia lived a humble life with her mother after her ruthless grandfather banished them from the family. Then, for the first time in 15 years, Alesia is summoned by her grandfather only to be told he has chosen a man to whom she must marry. He demands she marry Sebastien Fiorukis, the eldest son of another wealthy Greek family. The two families have been feuding for two generations, so what could her grandfather be scheming? But if she accepts this proposal, her ill mother will be saved. Alesia reluctantly agrees, but she didn't know how her new fiancé would treat her...
A Royal Proposition
Created by MARION LENNOX , Harumo Sanazaki
Published by HARLEQUIN K.K.
Story
Penny-Rose, a stone mason in the Principality of Castaliae is summoned by the Queen. She asks Penny-Rose to marry the prince... but only for one year. To succeed the throne, the prince needs to marry a woman of "unimpeachable virtue". Startled by such a sudden request, Penny-Rose hesitantly accepts. Despite knowing he is to marry another after her, she is slowly drawn to the prince, and eventually falls in love...
-------
Scott Green is editor and reporter for anime and manga at geek entertainment site Ain't It Cool News. Follow him on Twitter at @aicnanime.