Hot news, big features, and stories you may have missed!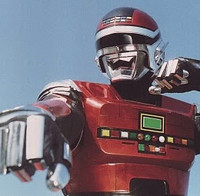 Since comic book films basically strangled the hell out of this summer, this week's recap is dedicated to all the superpowered dudes and dudettes out there, from Batman to Sharivan. We—nay, the WORLD—demand to know who your favorite superhero is, so let's talk about it after the news roundup below!
Below you'll find a bevy of hot stories, features and video posted throughout the week. But that's not all. We've also compiled a few stories we missed, so be sure to check those out, as well.
Follow us at the official Crunchyroll Twitter!
BLAZIN' STORIES!
Poll: Who is the Cutest Anime Girl in a School Uniform?
"Princess Mononoke" Play To Be Staged in London
RUMOR: "Final Fantasy Versus XIII" Cancelled
HOT STORIES
Fans Use Google to Map Tari Tari's Real Locations
Eiichiro Oda "One Piece Film Z" Sketches Versus Anime Version
San Diego Comic-Con Gets a Preview of Hollywood's New Godzilla
Giant "One Piece" Mermaid Washes Up in Tokyo
"Squid Girl" Branded Laptop Previewed
Eye-popping Robot Girls Restaurant Opens in Tokyo!
Discotek Media Officially Announces "Golden Boy" Anime License
Japanese Confectionery Shop Offers Anime Inspired Cakes
Details on "Hunter x Hunter" Anime Movie Revealed
Crunchyroll to Stream "Moyashimon Returns" Anime
"Fate/Zero: Next Encounter" to Feature Alternate Masters
Crunchyroll to Stream "Nakaimo ~ My Little Sister is Among Them!"
Namco Bandai Sets "One Piece: Pirate Warriors" for September 25
Beautiful New "Toki to Towa" Screens and Artwork
Shining Lightsaber Chopsticks Offered by Kotobukiya in Japan
"Supermassive" Evangelion Rei Slide Impacts Tokyo
1/1000 Scale "Steins;Gate" Building Goes on Sale in Akihabara
A "Monster Hunter" Monster Enters Guinness Book
"Bleach" Gets Its First Social Game
Despite my love for metal heroes like the above-pictured Space Sheriff Sharivan, I'm pretty fond of Daredevil. I'm still really digging his latest run by Mark Waid. By the way, this cover rules:
FEATURES
Fanart Friday, DC Comics Edition
TOP VIDEOS
Heroine Voiced in "Pokémon Black/White 2" Short
Latest "Code Geass: Akito the Exiled" Trailers
"Ninja Scroll" Sequel Sizzle Reel
"Silent Hill" to Traumatize Folks at Universal Studios
Latest Live Action "Rurouni Kenshin" Character Promos
"Steins;Gate" Anime English Dub Trailer
Bikinis for All in "Tekken Tag Tournament 2" Promo
Panty and Stocking with Garterbelt "Voice Actors Say $#!t" English Dub Promo
"Rurouni Kenshin: Kansei" PSP Trailer Heads into Battle
First Gameplay Trailer Debuts for Gorgeous "Tokitowa" RPG
Full "Eureka Seven: AO" Game/OVA Hybrid Trailer
SOME STORIES WE MISSED!
Thomas Jane Returns to the Punisher in New Short Film [Daily Grindhouse]
These ZombiU gameplay trailers have got red on them [Destructoid]
Comic-Con 2012: Picturebox to Publish Bara Manga by Gengoro Tagame [About.com]
The odds on western releases for Bravely Default, Monster Hunter 4 and more [Joystiq]
After School Midnighters CG Film's 3rd Trailer Posted [ANN]
As always, thanks for tuning in to CrunchyNews and hanging out with us this week. Let your voice be heard if you have any suggestions, or just general comments for us!
-------
Joseph Luster is the Games and Web editor at Otaku USA Magazine. His blog can be found at subhumanzoids. Follow him on Twitter at @Moldilox.