Top prize is a Kyubey recliner for creepy relaxing!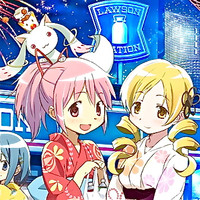 Starting on July 31st and running though August 20th, 2012, Lawson's chain of convenience stores will be holding a Madoka Magica campaign where you can buy items to get a chance to win some fabulous (or at least extremely interesting) prizes!
The prizes are obtained first by buying Lawson's items, then you receive a code on your receipt which you enter into your your computer or send in through the mail. When you enter in the codes, you receive a number of points for your purchase. And when you've built up enough points for the prize you want most, you can enter to win that prize.

"A" prize is a Kyubey recliner that's 60 cm wide (about 2 feet) with 14 settings for reclining. (5 winners) "B" prize is a signed 3D poster drawn just for this campaign. (5 winners)
"C" prize is a Kyubey bath set (300 winners), and "D" prize is a Lawson original Petan Musume Figure. (500 winners)
"E" prize is a "clear file" with a drawing made just for the campaign. (1000 winners) But even if you didn't win, you can use your Internet-connected cell phone or smart phone to win a download of Lawson original wallpaper.

The campaign also includes exclusive goods that you can buy only at Lawson's.
A Madoka Magica 3D design tablet (9 different types).
A Kyubey bun filled with whipped cream or blueberry jam! (The package comes with a code that can be used in an online game. The game, Puella Magi Madoka Magica Online, is a "browser game" that can be accessed by a PC. It starts in early August.)
When you buy Teas' Tea or Stylee drinks, you get a code that will allow you to obtain "skill cards" for the Madoka Magica online game. Ten types of cards in all.
What prize would you go for?
If you still haven't seen the groundbreaking Puella Magi Madoka Magica series, check it out on Crunchyroll here!
©Magica Quartet/Aniplex・Madoka Movie Project