Ambiguous statement on live stream leads to confusion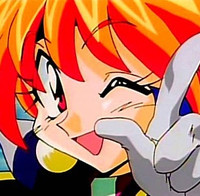 There's something refreshing about seeing a series that was popular when you first really got into anime making a comeback. That's how I felt in 2008 when Slayers Revolution brought the misadventures of beautiful genius scrawny and vicious sorceress Lina Inverse and friends back to animation--the first time since the release of Slayers TRY in 1997.
In a recent NicoNico interview, Slayers light novel author Hajime Kanzaka and illustrator Rui Araizumi mentioned that a new Slayers anime was in production! Could it be a new TV series, like Revolution and Evolution-R, or will we be seeing another OAV or movie, possibly with Naga the White Serpent?
Either way, this is great news. Now if you'll excuse me, it feels like the '90s again, and I have to go and check the store for a new copy of Animerica. Are you looking forward to more Slayers?
UPDATE: I hate doing this, guys, but it looks like I got this wrong. I... think?
Apparently, despite the Otakomu blog, it looks like we're not getting a new Slayers anytime soon. Sorry 'bout that, folks. Could this be trolling, or an almost four-month-late April Fools' joke? Or maybe the blogger just misheard? There's still a chance that it's not in the immediate pipeline and being done as something "down the road," so don't give up hope!
via Otakomu