The girls from "Berryz Koubou" and "℃-ute" are given their roles.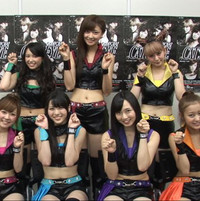 In the early '80s, City Hunter and Angel Heart manga artist Tsukasa Hojo was already famous for his Cat's Eye manga. It's a story of three sisters who team up to become cat burglars to steal back paintings from their late father's looted collection and to uncover the mystery of what happened to him. But as theives, these three women have a trained team of police constantly after them.
Due to a collaboration between manga artist Tsukasa Hojo and Geki-Hello, the stage-play division of the Hello! Project, Japan will be getting a stage play of Hojo's first mega-hit, Cat's Eye. The play will feature actresses from Hello! Project's J-pop groups Berryz Koubou and ℃-ute.
The eldest of the sisters, Rui Kisugi, will be played by Maasa Sudo.
The middle sister, Hitomi Kisugi, will be played by Maimi Yajima
The youngest sister, Ai Kisugi, will be plaid by Mai Hagiwara
Playing the detectives will be:
Saki Shimizu
Yurina Kumai
Saki Nakajima

and Risako Sugaya
Do these ladies make you want to watch a cops-and-robbers play?