Roundup of Otakon licenses includes the Fairy Tail film, among others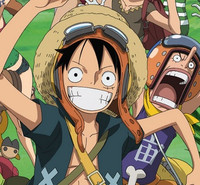 FUNimation's Otakon 2012 panel just ended, and the company had plenty to announce as far as licenses and upcoming releases are concerned. License announcements kicked off with the Tenchi Muyo! War on Geminar spin-off OVA series—which takes place 15 years after Tenchi Muyo! GXP—and then quickly snowballed from there.
FUNimation's synopsis of Tenchi Muyo! War on Geminar:
Kenshi – half-brother of intergalactic hero Tenchi Masaki – has been summoned to the mysterious world of Geminar, and his only hope of returning to Earth is piloting a bio-mechanical weapon in a shocking assassination attempt! When the mission fails and Kenshi is captured, he discovers he's been lied to by the very culprits who transported him to this strange new world. Luckily, Princess Lashara kindly welcomes Kenshi and invites him to live amongst her followers. Now, caught up in a political whirlwind – and hotly pursued by Geminar's female population – Kenshi must find a way to get home while civil war erupts all around him!
In addition to Geminar, the company also scored streaming, home entertainment, theatrical, and merchandise rights to the complete Tenchi Muyo! franchise.
One Piece fans are in for a treat, with the addition of One Piece season 5 (episodes 264-336), which spans the Enies Lobby arc and is planned for a DVD release in summer 2013. The big whopper, however, came in the form of One Piece Film: Strong World, the 10th feature film, which was written by series creator Eiichiro Oda.
There's more Fairy Tail on the way, with season two barreling toward us with 24 new episodes, as well as the Fairy Tail film, Fairy Tail: Houou no Miko, which opens in Japan on August 18. Check out the latest trailer for the movie—with story planning and visual design by Fairy Tail mangaka Hiro Mashima—if you missed it.
Another anime film on the horizon from FUNimation is Space Battleship Yamato Resurrection, which made its Japanese debut in 2009. FUNimation's synopsis:
A crisis is approaching Earth with the expansion of a moving black hole, in the year 2220. A plan is devised to move over 300-million people from Earth. When the latest transportation fleet is attacked, Space Battleship Yamato comes to its defense, the ship is now commanded by Susumu Kodai, also aboard is daughter Miyuki, child of Susumu and Yuki.
FUNimation also acquired additional rights to a number of series, including home entertainment rights to Lupin III: The Woman Called Fujiko Mine and Aquarion EVOL (Aniplex announced the streaming license earlier today); home entertainment, theatrical, and merchandise rights to Sankarea; and the home entertainment, broadcast, pay-per-view, and merchandise rights to Maken-Ki! Battling Venus.
Finally, FUNimation now has the home entertaiment rights to Akira, Katsuhiro Otomo's legendary 1988 theatrical anime.
What are you most excited about from FUNimation's panel?
-------
Joseph Luster is the Games and Web editor at Otaku USA Magazine. His blog can be found at subhumanzoids. Follow him on Twitter at @Moldilox.