Announcement of second season made via Twitter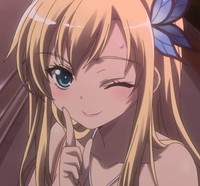 The official Twitter account for the Boku wa Tomodachi Ga Sukunai anime adaptation, better known and loved by the shorthand title Haganai has confirmed that a second season of the anime has been confirmed and will enter production soon.
The confirmation came during the Media Factory Bunko J 10th anniversary event being held simultaneously with this weekend's Wonder Festival. The first season of the anime adaptation aired last Fall to rave reviews and a renewed appreciation for meat, among other things. The franchise is still going strong with the forthcoming release of the Boku wa Tomodachi Ga Sukunai: Add-On Disc OVA this September in Japan.

So, who's excited to see even more of Yozora, Kodaka, Kobato, Sena, Rika, Maria and lovable trap Yukimura?
---
Humberto Saabedra is the Editor-in-Chief of AnimeNews.biz, PhoneNews.com and an occasional columnist for Ani.me. He can also be found musing on his favorite 2D girls at @AnimeNewsdotbiz.