The announcement came in the pages of Young Magazine released today.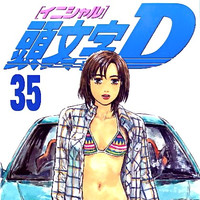 The popular racing manga, Initial D, by Shuichi Shigeno will be getting a new anime series. It was announced in the pages of the Young Magazine Issue 35 released today, but no details were announced as yet. It says to stay tuned for details to be released in the next issue. (That would be Issue 36/37 that is due out on August 6th.)

Initial D is a manga series based on illegal Japanese street racing and stars a genius driver, Takumi Fujiwara. The manga was released in the US by TokyoPop to some controversy due to alterations that were reportedly an attempt to make the story more marketable to U.S. viewers. The anime played for a while on Cartoon Network, and was released on DVD by Funimation.

Crunchyroll News will be filling in more details as they come in.
Are you looking forward to more Initial D?
©Shuichi Shigeno/Kodansha