New volumes of "The Perfect Girlfriend" and "My Sadistic Boyfriend" also added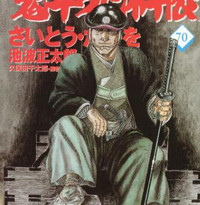 Back in April, JManga added Golgo 13 creator Takao Saito's adaptation of award winning period author Shotaro Ikenami's Professional Swordsmen of The Edo Era. This week, the digital manga portal is back with Saito's adaptation of one of Ikenami's most famous characters, feared samrai detective Hasegawa Heizō aka Onihei, the Devilish Bureau Chief.
Onihei was featured on a log running TV series with four different actors playing the part over the years. The character was also the namesake of one of the rival Genius 4 in Tantei Opera Milky Holmes.
The full slate of new additions includes:
The Perfect Girlfriend Vol. 4
Created by Wataru Akiduki
Published by FUTABASHA PUBLISHERS LTD.
Story
Good at academics, sports, and just about everything else, Suwa Hinako is a perfect and beautiful second year middle school student. Among all her male and female classmates who admire her, there is one boy who treats her normally. With a single word from him her identity begins changing dramatically! This winner of Comic High's Kamikaze Award depicts the imperfect love comedy of the perfect girl! The long awaited first volume of this award winning author is finally here!
My Sadistic Boyfriend Vol. 2
Created by , Momoshiro , Yuna Anisaki
Published by FUTABASHA PUBLISHERS LTD.
Story
After tons of hard work, ordinary girl Chiaki has finally gotten accepted to her dream school, Otomegawa High! Even better, on her first day there, she's told that she's won a special lottery and gets to be roommates with Katsuho, grandson of the principal and "prince" of the school, a handsome gentleman who many girls pine for. But as she soon learns, that kindness is only a facade. In private, Katsuho is a sadist - and he wishes to seal the lips of the only one who knows his secret - with his own! Bewildered yet strangely excited by his unwanted attentions, Chiaki is a defensless lamb who has caught the eye of a wild wolf. What will be her fate?!
ONIHEI, the Devilish Bureau Chief Vol. 1
Created by Shotaro Ikenami , Sentaro Kubota , Takao Saito
Published by LEED PUBLISHING CO., LTD.
Story
Oh, the majesty of historical manga! The blade arts of the "Devil" tasked with stiking down evils threatening a peaceful Edo! Heizou Hasegawa, upholding the role of chief officer protecting against crime and arson! In 1783, the heart of the Tenmei era, Hasegawa held the office of chief director of the department charged with sustaining safety in the region, suppressing the most vile of thieves and criminals, an individual largely feared, renowned as Devil Heizou... The tales of confronations against the legendary [Chigashira no Tambei], [Routou no Yume] and countless adventure packed into this 4-part compilation.


--------
Scott Green is editor and reporter for anime and manga at geek entertainment site Ain't It Cool News. Follow him on Twitter at @aicnanime.