In honor the the POTUS' 51st birthday... the time Yujiro Hanma and Barack Obama declared detente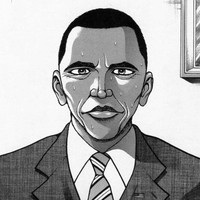 Barack Obama might as well be named an honorary anime/manga character. While Plenty of American presidents have made it into anime and manga, generally not framed with the highest respect, Japanese pop media really seemed thrilled to incorporate the 44th POTUS.
So, to celebrate his 51st birthday, a few of manga Obama's greatest hits.
Obama-kun and Hillary-chan showed up in the recent Yatterman revival (fandubbed here):
Will Smith got conflated with Obama in a Gintama joke:
He had a less than flattering appearance in Absolutely Lovely Children #44:
Oh!great's rollerblading shonen action Air Gear famously featured Obama doppelganger John Omaha:
There's the infamous My Neighbor Taro-kun, the doujinshi where the POTUS moved in next door to former Japanese Prime Minister Taro Aso, and engaged in some H-rated escapades with Hillary Clinton and John McCain.
All this is great, but a personal favorite is the time that Yujiro Hamna arranged for a meeting with Obama.
For background, Grappler Baki has been running since 1991 and all that time has bascially been about one thing... Baki Hanma training and fighting in hopes of one day defeating his father, Yujiro Hanma.
World class fighter and world class jackass Yujiro Hanma is famous for picking fights with America, whether it was beating up troops in Vietnam while a teenager or intimidating President Bush.
The recently concluded latest iteration of the often relaunched manga series starts with the hero, endeavoring to repeat his father's daring, and to get thrown into jail in order to fight the likes of Biscuit "Dark Arrow" Oliva, by arranging for an abduction luncheon with GW.
Obama has been treated well, for the standards of the manga series.
Now, Yujiro Hanma is a bully. He's the worldest great fighter and his MO is to beat people up and insult them during and after the assault. That said, he has a sense of social consciousness. He's not exactly motivated to do anything heroic, but he at least finds fighters who stand for something like Muhammad Ali endearing.
In Obama's case, Yujiro liked the guy enough that he met with the president and agreed to a detente with the US. He also crushed a coal into diamond at Obama's request... at least metaphorically.
We've skipped some Obama appearances. What's your favorite?
-------
Scott Green is editor and reporter for anime and manga at geek entertainment site Ain't It Cool News. Follow him on Twitter at @aicnanime.