Figure that originated "Hentai Woody" meme is once again available for sale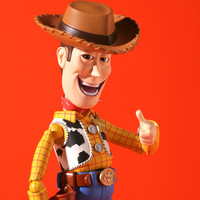 Toy Story's Tom Hanks-voiced cowboy hero Woody is one of my all-time favorite Pixar characters, and Kaiyodo's Revoltech figure of Woody is incredibly detailed and posable, like the rest of the Revoltech line. But... something's always been a little off with his extra head.
Bonus: his eyes can move
Kaiyodo has recently put the figure back on the market, so you too can recreate the horrors of Hentai Woody (slightly NSFW) for only ¥2850 (approx. $36 US). Don't know what I'm talking about? Here, but don't say I didn't warn you:
Okay then.
Who's gonna be adding Revoltech no. 10, Woody, to their figure shelves?
via Kotaku
Images via Know Your Meme