Paging Frank West, we have zombies attacking a shopping center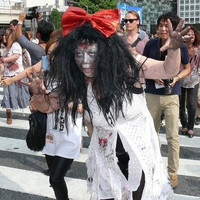 While the Resident Evil movies have never been numbered in North America, this year's Resident Evil: Retribution will be making its world premiere as Biohazard V: Retribution in Japan on September 3rd ahead of its September 14th wider American and Japanese release.
To promote the movie, a horde of zombies were let loose to shamble through Shibuya. August 10th was chosen for the invasion date because 8/10 looks like "BIO."
In a move that calls to mind the shopping mall zombie confrontation of Dawn the Dead (or Dead Rising), the group of 27 undead invaded the Shibuya shoping district by marching across the Shibuya Crossing in front of the Shibuya Station and handing leaflets to the fellow pedestrians. The horde moved on to Shibuya's underground shopping area 'Shibuchika' and to the 'Shibuya Cine Palace'.
Singer and actress Nakashima Mika reprises her role as Japan's T-virus patient zero, previously seen in Resident Evil: Afterlife.
Paul W.S. Anderson's Retribution finds Alice (Milla Jovovich) contending with false memories imprinted by Umbrella as well as a brainwashed Jill Valentine (Sienna Guillory).
From the official description:
The Umbrella Corporation's deadly T-virus continues to ravage the Earth, transforming the global population into legions of the flesh eating Undead. The human race's last and only hope, ALICE (Milla Jovovich), awakens in the heart of Umbrella's most clandestine operations facility and unveils more of her mysterious past as she delves further into the complex. Without a safe haven, Alice continues to hunt those responsible for the outbreak; a chase that takes her from Tokyo to New York, Washington, D.C. and Moscow, culminating in a mind-blowing revelation that will force her to rethink everything that she once thought to be true. Aided by newfound allies and familiar friends, Alice must fight to survive long enough to escape a hostile world on the brink of oblivion. The countdown has begun.
-------
Scott Green is editor and reporter for anime and manga at geek entertainment site Ain't It Cool News. Follow him on Twitter at @aicnanime.