We translate the perils of "Music Moral Keepers" into English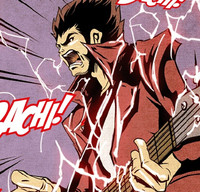 What better way to combat piracy than with the power of comics? The Japan Association of Music Enterprises created and posted "Music Moral Keepers," an anti-piracy web manga that tackles one of the music industry's greatest woes. Dig the plight of indie band Creek Machine Guns in our handy translation below!
Translation by Emily Balistrieri of Wonky Translation
The Year 2035-
"You guys were great!"
"Right?!"
World touring rock 'n roller Hayato Morikawa (29)
"This song's cool!"
Familiar with music old and new from all corners of the earth, unrivaled cyber lawyer Kyoichi Saionji (25)
"Could I get a cup of coffee?"
"Ah! Yes, right away."
Working hard at her part-time job while going to college, unparalleled music fan Ryoko Niwa (17)
NO MORE Illegal Uploads, Downloads
"This party's canceled."
"Gotta work?"
"Ahh"
"Is something going down?"
"Hurry up! To the year 2012!"
"There's an area where large quantities of music are being uploaded!"
"Let's go!"
The year 2012–
"Hey you, illegal uploading is no good!"
"What's up with you guys? This is the reason I exist—I have to do it!"
Rabid Creek Machine Guns fan Mizuki Murata (17)
Indie band, Creek Machine Guns. They were about to make their major debut, but because their production company went bankrupt they ended up not being able to.
I'm uploading the band's songs to make them known all around the world. My mission is to get them a major debut!
"Plus…"
(ILLEGAL UPLOADS, ILLEGAL DOWNLOADS)
"Isn't everyone just uploading and downloading whatever they want?"
"That's not true!"
"One person's illegal upload is tied to tons of illegal downloads! That's dealing a major blow to the music industry."
"The result is that talented new artists are being robbed of their chance to make it big!"
"If you really love music…"
"Follow the rules!"
"I just wanted everyone to know about them…"
"I want everyone to listen to my favorite songs, too, but if you don't follow the rules and etiquette, then pretty soon you won't be able to listen to the songs you want to hear, either."
"In order to freely enjoy the music you love, please remember to continually consider the moral responsibilities involved!"
"Don't forget that your actions have a direct impact on the future of music."
(The Return of Creek Machine Guns, 2012 Tour)
Music Moralism, Let's protect our music together
-------
Joseph Luster is the Games and Web editor at Otaku USA Magazine. His blog can be found at subhumanzoids. Follow him on Twitter at @Moldilox.