Over 1500 Japanese fans voted on Anime's most pressing issues!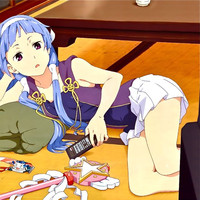 Are you pretty happy with anime as it is? Or would you like to have your say! Biglobe's anime site had a poll on what Japanese fans considered the issues of the day!
The poll closed at about 9:00 AM on August 13th in Japan with a total of 1552 votes, and top observations were:
1 (189 votes) I think it's fine to watch anime on rental DVDs or streaming on the net without buying the DVD.
2 (153 votes) I really think the late-night anime is aimed at the "moe" market too much!
3 (144 votes) I really wish they'd schedule late night anime a little earlier.
4 (115 votes) I wish they'd understand that just because it's late-night anime, it doesn't all have to be aimed at the "moe" market.
5 (108 votes) KyoAni (Kyoto Animation) is too good for words.

6 (81 votes) I don't care what part Aki Toyosaki plays, she only ever sounds like Yui Hirasawa to me.
7 (80 votes) I think what counts as "interesting" are the shows I discovered and liked at the moment of discovery.
8 (66 votes) I think Hyouka is the best title so far this year.
9 (62 votes) Don't you think we've been getting a little too much Yuuichi Nakamura these days?
10 (60 votes) I think the No. 1 male voice actor is Hiroshi Kamiya.
10 (60 votes) I am really, really against a live-action version of Library Wars!
12 (58 votes) I think that just being "interesting" isn't enough. The most important part is to fall in love with the anime.
13 (56 votes) I think the No. 1 female voice actor is Miyuki Sawashiro.
14 (52 votes) My family can't tell anyone that I'm an anime otaku (laughs), and they'd be horrified if it got out.
15 (48 votes) I think it's wrong to automatically equate a love of Eva with otaku. (Grr!)
16 (43 votes) I think my otaku-ism has increased hearing voice actors on the radio all the time. (sweats)
17 (34 votes) The truth is, I can't really tell the difference between Gundam, Eva and Acquarion. (Sorry.)
18 (31 votes) I think the god of late-night anime is K-on.
19 (26 votes) I find yume-shosetsu ("dream novels) parodies hard to take.
20 (24 votes) I agree that "interesting" means that a title works to appeal to a viewer's personal set of values
21 (22 votes) Amazing… The really famous voice actors were all born in Aichi Prefecture!
22 (21 votes) The Jump-based anime have a tendency come out better than their original manga.
23 (12 votes) I agree that "interesting" has an intrinsic element that has nothing to do with a viewer's values.
24 (7 votes) With anime computer graphics now in a system where such things as key animation, in-betweening, and backgrounds are outsourced to all kinds of people and countries, I think some respect should be shown to those outsourced animators.

Anything below 7 votes didn't make the list.

If you combine the similar feelings of #2 and #4, that comes out to a combined number of 268 votes, and would easily have taken the #1 spot.

The word for "Interesting" in Japanese has a nuance of "fun" or "cool." What would be considered a "good story" in English would use the word for "interesting" in Japanese.
Dream Novels are web-based stories where you type in your name, and a story comes up with you as the main character.
So what do you feel strongest about in anime?