177.1% more than the last year's "Blood Prison"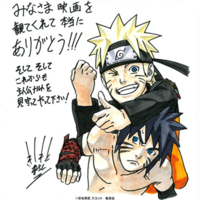 Road to Ninja: Naruto The Movie, the ninth Naruto film released in Japan on July 28, has already earned more than one billion yen (approximately US$12,763,000) in 17 days. This is 177.1% more than the last year's film Naruto the Movie: Blood Prison at the same period and of course the fastest record in the Naruto films. The film debuted at the third place in the first weekend, seventh in the second, and eighth in the third. The most successful Naruto film was Naruto the Movie: Ninja Clash in the Land of Snow in 2004, which earned 1.37 billion yen. There is no doubt Road to Ninja will break the record soon and become the most successful Naruto film ever.
In celebration of the great success, the official site for the film posted a special illustration to thank the fans by Masashi Kishimoto, the original creator of Naruto, for limited time today.
Kishimoto's message:
"Thank you very much everyone for watching the film! And and please always support our protagonist Naruto!"
Source: Oricon Style
© Masashi Kishimoto Scott/ Shueisha