Several MPTE awards went anime and anime-related projects.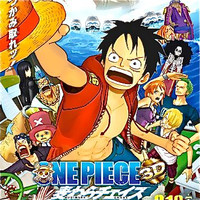 The 65th annual awards (for works produced in 2011) were recently presented by the Motion Picture and Television Engineering Society of Japan (MPTE awards). The winners were announced on their website.
The 2011 One Piece movie picked up an award for Best Animated Theatrical Release in the Promotion of Technical Achievement division. That was the movie: One Piece 3D Mugiwara Chase
Other the anime- or manga-related winners were:
In the Technical Achievement Division:
Achievement in Theatrical Anime Award: Friends Mononoke-Shiman no Naki
Achievement in Broadcast Anime Award: Black Rock Shooter
For the Special Effects (VFX) category:
Achievement in Theatrical VFX award: Ashita no Joe (based on the classic anime of the same name)
Ashita no Joe also won Best Theatrical Photography and Best Lighting in the Promotion of Technical Achievement Division.
Other anime-related Promotion of Technical Achievement Division awards went to:
Best Animated Broadcast Release: Wandering Son TV anime
Best Theatrical VFX Release: Hayabusa, Haruka-naru Kikan (Special effects by Toei Animation)
What anime would you like to see receive awards?