It's the first limited-edition color for the #DS LL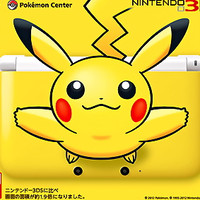 Nintendo will be putting out a limited edition color for the Nintendo hand-held 3DS LL called the Nintendo 3DS LL Pikachu Yellow. It will go on sale September 15th but it will only be available in limited numbers.
The price for this first-ever limited-edition color Nintendo 3DS LL will be 18,900 yen (about $240), and will only be available in seven locations throughout Japan.
The color will be the familiar Pikachu golden-yellow color with an image of Pikachu on the front and his connecting tail on the back. The interior with the game controls will be white. A limited number of pre-purchases can be made will full pre-payment from August 25th through the day before the release, September 14th, but pre-purchases may close early if the specified number is reached.

Would you like to play Pokémon on a Pikachu 3DS?