Follows up massive new slate of films including "Guardians of the Galaxy," "Ant-Man"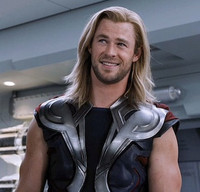 With Marvel's new line-up of superhero movies extending into 2014, it's only natural that another gigantic Avengers crossover film will cap the story arc. We know that Joss Whedon is once again writing and directing the Avengers sequel, but now Disney and Marvel have unveiled the date that everyone will (assumedly) join up and kick Thanos in his goofy-looking purple chin: May 1, 2015.
If this exchange is in the movie, you will be able to hear my fanboy squeal from several states away
So now that we've all marked our calendars in anticipation, what are you looking forward to in the upcoming Avengers sequel? Are you joining the bandwagon in hoping for Thanos and some Infinity Gauntlet-inspired epic battle? Maybe a larger cast, featuring Ant-Man and Drax? Or are you just looking forward to when The Avengers hits Blu-ray and DVD on September 25?
via Marvel