A half million visitors to the "Doraemon" creators museum in less than a year.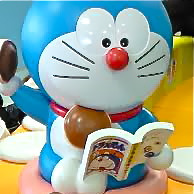 At about noon of August 12, 2012, the Fujio F. Fujiko Museum went over a 500,000 visitors. The prize for being the half-millionth visitor went to a father and daughter pair of visitors from Yamagata city in the Tohoku area of Japan. They were presented with a present of a huge stuffed Doraemon that was made especially for the event. The father said he's been a fan of Fujio F. Fujiko characters since he was a child, and his daughter loves them too.
At the opening of the museum on September 3rd, 2011, the curators of the museum had set a goal of a half million visitors for the first year, and they made that number almost a full month early.
To prevent overcrowding, the museum works on a reservation system. Each day is devided into four different 2-hour periods, and a total of 500 people are allowed in during each period. Tickets are available on the 30th of each month at Lawson convenience stores.

Several events surrounded the upcoming first anniversary including decorating a train that serves Kawasaki City where the museum is located in Doraemon images both outside and inside the train.

Is a visit to the museum of the creators of Doraemon something you'd schedule for your Tokyo trip?