The latest issue of "GFantasy" magazine includes a free poster.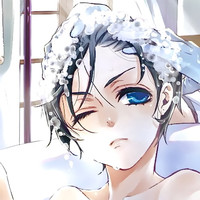 Issue 9 of Monthly GFantasy (from Square Enix) includes a poster of a Black Butler main character in the bath. This is a series of two Black Butler "bath posters," the next will be released with Issue 10 next month.

The poster for this issue features Ciel, and reportedly the image for next month's edition is an illustration of his butler, Sebastian. The two illustrations can be put together to make one large image.

This issue of Monthly GFantasy also announced that there will be an official Fan Book for the Cuticle Detective Inaba for which an anime was recently announced. The Fan Book should go on sale in March of 2013. The color pages of the magazine invited fans to send in their own illustrations for possible inclusion in the book.
How'd you like bath posters of the Black Butler stars?