Featuring characters from Gundam, Votoms, Zoids, and many more!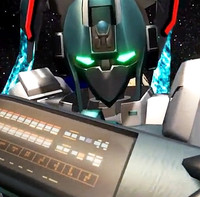 Oh man. My eyeballs are still recovering from the rather intense mecha action and heroic robot cameos contained in the following clip, MMD Super Robot Wars Z.
Created as an entry the 9th Miku Miku Dance Cup contest on niconico douga by "Sierra man sama", this one laser blasts the crap out of the competition. While most MMD clips are content to have Hatsune Miku and co. recreating dance steps from anime shows and j-pop videos, THIS ONE takes inspiration from the famed Super Robot Wars video game series and features mind-melting mecha throwdowns between iconic character from Gundam, Votoms, The Big O, Zoids, video games like R-Type, heck, even Mazinger Z!
While the uber-dramatic music itself comes from the 1st Super Robot Wars Z game, Vocaloid fans will feel right at home. Miku and co. also make appearances towards the end, albeit in cool mecha style.
No, but seriously...how many mecha here can you name? It blows my mind that this was all made using Miku Miku Dance software. This clip better win the MMD Cup this year, or there just 'aint no justice in the world!
Via Mike Dent
-------
Patrick Macias is editor in chief of Crunchyroll News. He also runs the Japanese Fashion Inferno tumblr blog. Follow him on twitter at @Patrick_Macias.