It's the first starring turn in a drama for the 25-year-old actress.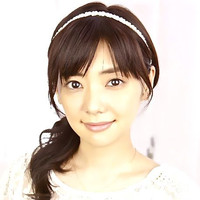 We told you about the newTV live-action drama that was scheduled for the hit "food" manga, Hana no Zubora-Meshi (Hana's Cut-Corners Cooking). New details have been released on the actress who is cast as Hana.
This is Kana Kurashina, an actress who made her name on the NHK Daytime "TV Novel" drama, Welkame as well as grabbing the spotlight in such dramas as Mother and Namae o Nakushita Megami. Still, up until now she has never had a starring role. But starting in October, she'll be playing the home-alone wife, Hana in the new drama Hana no Zubora-Meshi.
Ms. Kurashina was quoted as saying, "After I read the manga, I found that I was really looking forward to playing Hana. She has her slovenly side, but she also has a delicate side and one that is looking for the perfect taste! I think that'll be very fun to portray!"

The first episode is scheduled to play on TBS on October 23rd, and run in late-night from 0:55 to 1:25 every Tuesday. On MBS it runs every Thursday during the same time.
For fun, let's show you one more shot of Ms. Kurashina.
Ready for some live-action cut-corners cooking?