It's her second acting turn, and her second title role!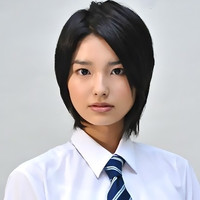 There will be a one-shot live-action TV drama based on Madoka Kawaguchi's josei horror manga, Shi to Kanojo to Boku (The Death, Her and Me), and the one picked to play the star role of Yukari is new-comer Azusa Mine. Although she had a starring role in a movie previously, it's the first TV drama appearance for the 20-year-old model-turned-actress.
It's basically a horror story in which Yukari Tokino can see and hear the dead, and although they come at her in sorrow or rage, she still reaches out her hand to help them. The drama will deal with an episode of the manga where a first-rate architect is murdered in her apartment building, but the case is being treated as a suicide.

Ms. Mine had this to say about the part. "I was very surprised to hear that I'd be the star in my very first appearance in a TV drama! But since this is my chance, I'm going to give it everything I've got!" Prior to this, she appeared in commercials and starred in the theatrical release Signal: Getsuyoubi no Ruka ("Signal: Ruka on Monday"). If you want to see her in motion, here's the preview for that film.
The Shi to Kanojo to Boku drama will start on TV Asahi at 11:15 PM on September 21st and run until 15 minutes after midnight.
Interested in a cute girl who sees dead people?