Over 2000 fans responded!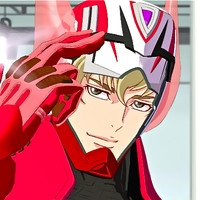 Japanese animation has plenty of heroes, but there may not be as many true-blue, straight-laced-style heroes in the anime pantheon as in other genres. The Japanese fans were asked their favorites.
The poll closed at about 9:20 PM last night in Japan with a total of 2221 votes.
Here are the top picks!
1 (275 votes) Barnaby Brooks Jr. (Tiger & Bunny)
2 (222 votes) Kira Yamato (Kidou Senshi Gundam Seed)
3 (175 votes) Anpanman (Sore-Yuke Anpanman)
4 (147 votes) Touma Kamijou (Toaru Majutsu no Index)
5 (125 votes) Maito Sempuuji (Yuusha Tokkyuu Might Gaine)
6 (123 votes) Seiya (Saint Seiya)

7 (122 votes) Jan Kugo (SF Saiyuuki Starzinger)

8 (114 votes) Yatterman 1 (Gan-chan) (Yatterman)

9 (105 votes) Guy Shishioh (Yushaou GaoGaiGar)

10 (99 votes) 009/Joe Shimamura (Cyborg 009)

11 (94 votes) Yuuya Bridges (Total Eclipse)
11 (94 votes) Kazui Muto (Buso Renkin)
13 (84 votes) Wataru Ikusabe (Mashin Eiyuu-den Wataru)
14 (80 votes) Kakeru Aizawa (The Knight in the Area)
15 (77 votes) Mami Tomoe (Puella Magica Madoka Magica)
16 (76 votes) Shinobu Fujiwara (Super Beast Machine God Dancouga)
17 (75 votes) Hikaru Ichijo (Macross: Do You Remember Love)
18 (69 votes) Daisuke Aurora (Heat Guy J)
19 (65 votes) Ichika Orimura (IS <Infinite Stratos>)

Anything below 65 votes didn't make the list.
A few of these series are available to watch on Crunchyroll. Those are the titles that have hyperlinks.
So tell us! Who is your most straight-laced, heroic hero?