It's a collaboration between "Biohazard 6" and Universal Studios Japan!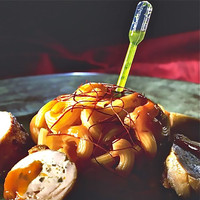 A collaboration was just announced between CAPCOM, the makers of the popular Biohazard (Resident Evil) series and Universal Studios Japan -- just in time for this Autumn's Halloween Horror Nights event held at the theme park.
They'll be using the stage that houses the Terminator 2 3:D, and Umbrella Corporation will turn it into a walk-though maze where performers will be making the Biohazard (Resident Evil) world come to life! The setting is reported to be Gramercy Park, New York which, at night, has become a T-Virus-infected zombie wonderland.
And to compliment the exhibit, they'll be offering a special, limited time menu including "Brains T-Virus" pasta.

As well as a non alcoholic Mixed Herb Drink (soft drink) and an alcoholic "Birkin G" drink.
Universal Studios Japan's Halloween Horror Nights will be held for 36 nights, every weekend on Fridays through Mondays, from 6:00 PM through 9:00 PM, starting September 11th and running until October 31st. BioHazard 6 is due to be released in Japan on October 4th, 2012.
Would you come to Osaka to eat some brains and get scared by some zombies?